NuMei Affiliate Program
Start making money by joining our Affiliate Program. The NuMei.com Affiliate Program allows you to earn commisions from qualifying sales when you refer customers to our online store. If you have your own website, a blog, or a facebook page, join our Affiliate Program and you will be on your way to making money. Best of all, membership is FREE!
Getting Started
Getting started is easy:
Read and agree to the terms of the Affiliate Program Agreement.
Sign up for the program by filling out the online Application Form.
Your application will be processed and responded to within one business week.
Once you are approved, we will send you Designated Links to be posted on your website. When customers click on those links and purchase from us, you earn a 5% commission on the items they purchase.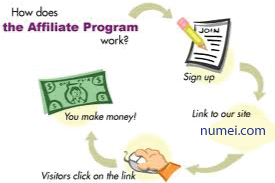 Other Information
Commissions on qualifying sales are paid out QUARTERLY in the form of NuMei.com store gift certificates. Our affiliate program records all transactions that we receive from your site through the Designated Links that are sent to you.
For more information, please refer to the Affiliate Program Agreement.
Contact Information
For general information and questions regarding our Affiliate Program, please email us.