I have a great idea for my first project. Granted, I have just learned how to make a slip knot, hold the needles, Cast On, and make a Knit Stitch and I have a lot more to learn. But as an avid golfer that plays golf just about every day, I have a particular unmet need for which I think my newly learned knitting skills can meet. I am up for a new adventure and I am ready to give it a go. Am I being too ambitious? Let's see!
So here's my idea. I want to make a small washcloth, about 4 inches by 4 inches, for use when I am playing golf and need to clean the dirt off of my golf ball. I call this undersized washcloth a golf ball washcloth.
Now before you dismiss this idea, let me explain. When I play golf, I wash my golf ball thirty-six times over the course of play. At the start of every hole for each of my 18 tee shots, I always clean my ball before teeing off to make sure there is no dirt or debris on it which could affect the distance and accuracy of my tee-shot. And once I am on the putting green, I mark my ball and clean it thoroughly removing any dirt and debris as well as impression marks that the golf ball may have after being hit a few times. The dirt and debris would definitely alter the roll of the golf ball. As for the impression marks, for me those would be a visual distraction that might interfere with the way I aim when putting. Suffice it to say, I always want to take aim and putt with a clean, white ball.
This cleaning of the golf ball is allowed by the rules of golf. And actually, it is quite important to do.
So how do I, and golfers like me, clean a golf ball? Like many avid golfers, I have a golf towel that is clipped on my golf bag that I use for all of my cleaning and toweling needs. I can unclip the towel and bring it with me to the green and use it to clean my ball, but the towel gets pretty dirty over the course of play. I would rather use something else, something much smaller that I could use just for cleaning my golf ball and that would not be so dirty nor cumbersome for me to carry to and from the tee-boxes and greens.
So this is what I came up with. My golf ball washcloth.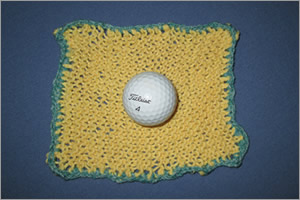 Using the yarn that my wife gave me, Silver Swan Cotton Spa #4 – Snapdragon, I cast on 20 stitches and knitted 40 rows. This produced a small, 4 inch by 4 inch, washcloth, a perfect size for keeping my golf ball clean. For good measure, since my golf bag is snapdragon yellow with a green trim, I asked my avid knitter wife to teach me how to crochet a border to make my new golf ball washcloth color coordinated with my gear.
I have since played several rounds of golf with my new golf ball washcloth. I am happy to report that it works perfectly and has not gone unnoticed by my fellow golfers. Hardly a knitting masterpiece, but for a beginner knitter who not long ago was struggling with slip knots, I consider my first project to be if not a whopping success at least par for the course. Now on to purling!