I really enjoyed learning the Stockinette Stitch. Though I initially struggled with inadvertently making Knit Stitches in my Purl row and sometimes forgetting to alternate between rows of Knit and Purl Stitches, I found a way to overcome those mistakes by saying to myself, "Knit down, Purl across" as I went about my work. After an evening of practice I got the hang of it and I got an idea for my second project, a solution to a problem that I have with my cell phone.
As long as I can remember, I have always had a problem remembering where I put my cell phone. This problem is especially prevalent when I am traveling on business. Sometimes I leave my phone in my briefcase. At other times, I leave my phone in the inside breast pocket of my suit. And then sometimes, I leave my phone by my laptop or on whatever countertop that happens to be nearby. On more than one occasion I have thought about and told myself that what I really need is a home for my cell phone, a place that I will always put it whether I am at home or traveling.
So as I was practicing my Stockinette Stitch and admiring the pattern of the stitches, the idea for my next project came to me, a phone mat for my cell phone.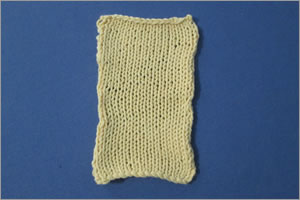 With equal doses of enthusiasm and confidence, I knitted away. I had no pattern nor any measurements. I just got busy. Best of all, I didn't tell my avid knitter wife, my teacher, what I was doing. I kept it all to myself and of course had no intention of asking for any kind of help.
Important to note, I really like my cell phone and it has served me well. My cell phone is not the most advanced, newest, or most expensive phone in the market, but it's very lightweight, perfectly fits the breast pocket of my suit, the battery holds its charge for a very long time, and it has two SIM card slots which is a must for my international travels. So, I was more than happy to make a mat for it and since just about every desk I work at has a black top, I chose a very visible bright yellow yarn, Silver Swan Cotton Spa Worsted 5 Mineral Yellow.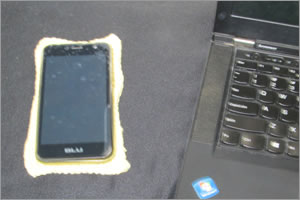 After finishing my little project, the phone mat, I took it up to my home office to try it out. I was so pleased that I called for my avid knitter wife to come have a look. The expression of surprise on her face was priceless. When she asked me what I had done, I told her that I made a colorful phone mat so I would always have a place to put my cell phone and would be less likely to misplace it or forget where I put it, especially when travelling and away from my normal surroundings and routine.
She wanted one too. And even more important, it has been several days now and I haven't misplaced my cell phone. Success.