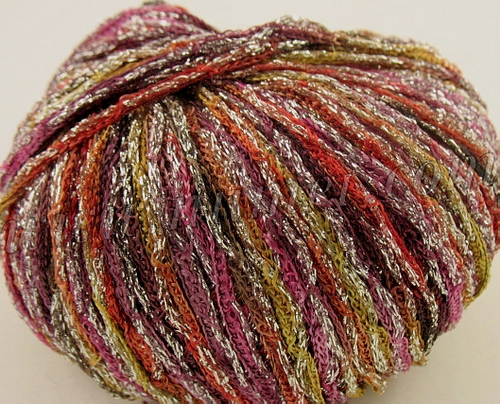 Berlini Magical Treat
Glittery glitz and shimmery yarn for glamorous knits
When you are looking for glittery glitz and shimmer to glamorize your wardrobe, Magical Treat delivers. A soft, silky ribbon entwined with a metallic glitter yarn, Magical Treat shimmers and dazzles brilliantly in the light and is ideal for dressy tops, scarves, shawls, cardis, necklaces and accessories. Magical Treat may be knit on its own or combined with another yarn for an enchanting, bulky option. Magical Treat may be combined with Ladder Ribbon or East Track II to crochet beautiful necklaces that sparkle and glitter.
Dress up your project with this soft and alluring yarn, and step out in captivating fashion for a magical night out.
Content: 88% Nylon, 12% Lurex
Weight/Yardage: 1.75 oz/50 grams; 109 yards/100 meters
Gauge: 20 st & 28 rows = 4 in x 4 in on US Size 8 (5 mm) needles.
Care: Handwash, lay flat to dry.
Knitting Weight: Worsted
Made in Italy
*Due to varying settings on computer monitors, please note that product colors you see on your screen may not reflect the actual colors of the product.
You might also like...

Berlini Costella *Closeout!*
$3.99/50g ball; $14.90/bag of 10
50g/120 yards
92% Cotton, 8% Lurex
Worsted weight

Berlini Tilly *Closeout*
$6.99/50g ball; $19.90/bag of 10 *Closeout*
50g/49 yards
80% Nylon, 20% Lurex
Bulky weight