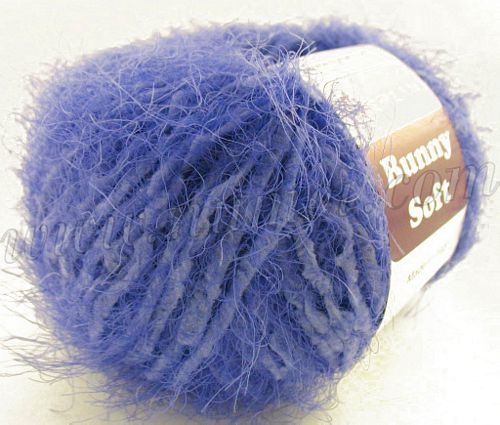 Berlini Bunny Soft
Softest, cuddliest, coziest polar fleece yarn
Bunny Soft is one of the softest, cuddliest and delightful polar fleece chunky yarn we have ever felt. When we first held this yarn, we found that we could not stop touching it! It is super-huggable and is like caressing the soft coat of a bunny, hence the conception of its name.
Made of supremely soft 100% microfiber nylon polar fleece peppered throughout with ultra fine eyelashes, Bunny Soft knits up with an almost angora-like effect, resulting in a soft luxurious haze in the finished item. While this sensational yarn may be categorized as Bulky, it is deliciously lightweight and pleasantly cosy to wear.
One of our favorite yarns to knit with, Bunny Soft is hypoallergenic and suitable for even the most sensitive skins. It is especially ideal for babies and children. Make everything plush from scarves, shawls, hats, sweaters and coats to afghans, blankets, pillow covers, bath mats and toys.
Due to its super soft and light texture, Bunny Soft is also an excellent choice for making preemie hats and blankets, as well as caps for cancer patients.
*Please note when making stripes or combining colors:
On testing, we have found that the following colors are slightly different in texture and a little finer that the other colors:
3155 Soft Pink
3182 Baby Blue
349 Baby Chick
3201 Spring Green
3188 Magenta
3168 Periwinkle
3177 York Blue
Content: 100% Microfiber Nylon
Weight/Yardage: 1.75 oz/50 grams; 80 yards/73 meters
Gauge: 12 st & 18 rows = 4 in x 4 in on US Size 10 1/2 (6.5 mm) needles.
Care: Gentle machine wash and dry.
Knitting Weight:Bulky
Made in Italy
You might also like...

Berlini Little Blossoms
$5.99/50g ball; $29.90/bag of 10
50g/55 yards
95% Wool, 5% Nylon
Bulky weight

Berlini Mayfair *On Sale!*
$4.99/50g ball; $14.90-$19.90/bag of 10
50g/98 yards
50% Cotton, 50% Acrylic
Heavy Worsted/Aran weight

Berlini Merino Velvet Worsted
$11.99-$13.99/100g ball; $39.90-$46.50/bag of 5
100g/196 yards per ball
100% Extrafine Merino Wool; Superwash
Worsted weight